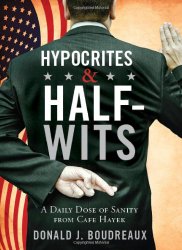 Don Boudreaux is a professor of economics at George Mason University. He blogs at Café Hayek. I invited him to discuss civil asset forfeiture on the podcast because of a conversation we had about it at a recent Mercatus Center colloquium.
Civil asset forfeiture is the practice of the state taking someone's property on suspicion that the property has been used for wrongdoing, without having to charge the owner with a crime.
Civil asset forfeiture had its origins in British maritime law. The British had difficulties with pirates along the Barbary Coast. When the pirates were apprehended and their ships brought back to London, British courts had difficulty deciding what to do with these ships. The ships' owners were outside the jurisdiction of British law, so the courts couldn't try and convict them, but they couldn't send the ships back to them either only to have them return to the seas with a fresh pirate crew! Parliament thus passed a law allowing the courts to charge the property itself with the crime if and only if the property's owner was outside the jurisdiction of British law. Continue reading Civil Asset Forfeiture with Don Boudreaux →
Subscribe to Economics Detective Radio on iTunes, Android, or Stitcher.