I'm in the second year of my PhD, and I'm working to develop a research program; hopefully one that gets me a finished dissertation as soon as possible.
I'm drawn towards studying education because (1) I have spent my entire life in schools and (2) schools are seriously, and obviously, messed up. The marginal benefit of an additional perspective on education could be very high if that perspective were to shape education reform in some way.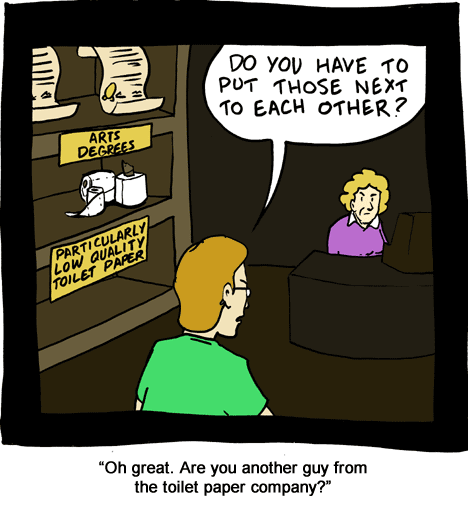 It's a cliché to make fun of "soft" degrees, so I'm surprised there isn't a large body of research on why people choose to pursue them anyways. However, there is a body of research on why people fail to treat education as an investment more generally, as detailed in the working paper "Behavioral Economics of Education: Progress and Possibilities" by Lavecchia, Liu, and Oreopoulos. To avoid typing out Lavecchia, Liu, and Oreopoulos many times, and to make it seem like I'm periodically pausing to laugh, I will refer to them as LOL.
LOL use the dichotomy of "system 1" versus "system 2" thinking. System 1 is the unconscious, mostly automatic part of our brains that says "Don't get out of bed, it's warm and nice here and getting to work on time isn't so great anyways." System 2 is the part that rationally deliberates our long-term choices and says "You need to get up and go to work because working yields the following long-term benefits: (1) wages, (2) the promise of future wages, (3)…" LOL include the obligatory footnote saying that neuroscientists dispute whether this is actually what the brain is doing, but go on using the dichotomy anyways because it's an extremely useful way to organize our thinking about the brain even if that's not how it literally works. Continue reading Thoughts on the Behavioural Economics of Education →